Cellular Window Shades

---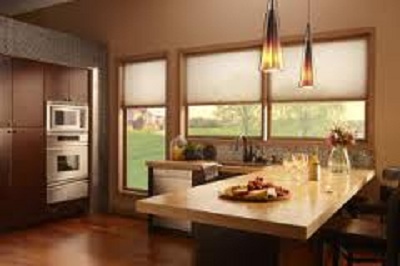 ---
Cellular window shades, also known as a honeycomb shades or simply or cell shades, offer the great ability to filter light in the room while maintaining total privacy. At  Blinds and Shutters Plus, we work hard to bring you the newest and most modern options regarding cellular shades.
They are made of a beautiful fabric material that provides superior energy efficient insulation. Cell shades insulate by keeping the cold out and the heat in during the winter, and the heat out and the cold in during the summer.
They come in either light filtering, room darkening or blackout cellular shades. Single cell or double cell design is also an option. The single cell weighs less, so for larger windows, this could be the best choice. Double cell shades provide better insulation because of the duality of the cell.

The size of the cell itself varies from the smaller 3/8" to the larger 3/4". It really depends on what looks best and your needs. For size ratio, cell shades are mostly used in larger windows. While the smaller 3/8" cellular window shades look better in small to mid-size windows.
---
---
When deciding which cell shade will work best for your needs, consider the light filtering or opaqueness level. Light filtering cellular shades allow light to softly filter through the shade. This gives your room a very cozy and warm feel, while still providing privacy. Blackout cellular shades will provide the greatest blockage possible. These shades are ideal for where complete darkness is the desired effect, such as media rooms and bedrooms.

Benefits of Cellular Shades:
Offers up to 75% to 99% UV-protection.

The pockets of air in the cells insulate windows from heat and cold.

Sharp appearance from street view and flows with any contemporary décor.



Other Options:
Continuous Cord Loop – This is a really nice option because there is no excess string hanging down after raising the shade.

Top Down Bottom Up Shades - This functional option allows you to raise the shade from the bottom and also lower it from the top. This is an excellent way to maintain privacy while still allowing light to come in.

Motorization- This function is really handy if you have windows that are located in high windows. Motorization gives you the ability to control the shade without having to get on a ladder to pull the strings.

Cordless Cell Shades – Give a sleek look coupled with great function without control strings.



For those places where you want the look of a cellular shade, but are interested are trying to budget, you can go with a pleated shade. Pleated shades have a similar look and are less expensive than cellular shades. The difference is that the pleated shade is made of a single layer of material, and a cellular shade is made of tiny cells with a dual layer of material.

Custom cellular window shades and pleated shades are durable, functional and aesthetically pleasing for many environments.
---
---
For a free consultation, call us at 479-295-4569 or email info@blinds-and-shutters-plus.com. 
We serve the Bentonville, Rogers, Springdale, Fayetteville, and the whole NWA area by offering expert measuring, professional guidance, timely deliveries, and free installation. We look forward in helping you find the right window covering for your needs and décor.