Bamboo Roman Shades
(Woven Woods)
---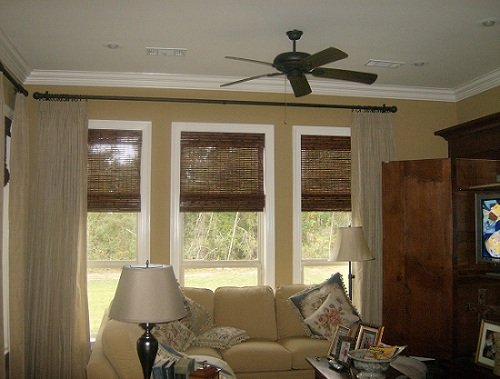 ---
Bamboo roman shades also known as woven woods, woven wood blinds, etc. have a unique style to them and their popularity is sweeping the United States. They are made from natural products such as jutes, bamboo, reeds, grasses, rattan, and a host of other materials. The materials that bamboo roman shades are made from are acquired from sources that are renewable and are typically indigenous to many parts of the world.
They fit many styles of décor ranging from the bustling city of New York to the serene mountains of Appalachia. They are multipurpose in which you can get them with light filtering options or you can get them with blackout liners. These are typically hand-woven and are very friendly to the environment.

They have a beauty and elegance that are only unique to them. Natural woven woods come in and array of tantalizing textures, colors, options, and features. The bamboo are woven very tightly and have a uniform construction look. While those made of grasses and reeds emanate an elegant tropical appearance.

Bamboo Roman shades are intricately woven, normally with many natural materials which create stunning patterns. The color palettes are extremely diverse ranging from bright whites to dark exotic ebonies. In between this range is a host of green, red, orange, gold, and brown hues all put together in an spectacular fashion.
Their construction is sturdy and very similar to the cloth roman shade. Some are designed to function as your classical flat roman shade while others are made to function as a beautiful hobbled shade.

The cord lift controls can be located on either side of the shade. They come in the standard control, a pulley mechanism, continuous cord loop, and the top-down/bottom-up shade style feature. The top-down/bottom-up is a handy option especially for rooms where privacy is very important but also sunlight is desired such as bedrooms and bathrooms.
---
---
Additional options are diverse liners such as light filtering or blackout. Life filtering liners are especially desirable when one is concerned with privacy, because bamboo Roman shades typically have gaps in between the material. The blackout liners totally prohibit light from entering through the shade. These are ideal for bedrooms and sometimes media rooms. However, some desire woven woods with no liners to get that open airy look.

To give an added jazzy look, fabric edge binding can be installed. They come in a vast array of patterns and contrasting or matching colors.

Bamboo roman shades are a sweeping trend that is found in many homes and commercial establishments throughout the Triangle area and the United States. They provide privacy, light control options and insulating qualities while providing a natural exotic look. From the very casual to the crisp contemporary they add an elegant and comfortable ambience to any room.

---
---
For a free consultation, call us at 479-295-4569 or email info@blinds-and-shutters-plus.com. 
We serve the Bentonville, Rogers, Springdale, Fayetteville, and the whole NWA area by offering expert measuring, professional guidance, timely deliveries, and free installation. We look forward in helping you find the right window covering for your needs and décor.